Description and Tour
What is WAIL?
WAIL is a one-of-it's-kind facility for conducting network and distributed systems research. The vision is to be able to recreate instances of the Internet from end-to-end-through-core in a laboratory environment. What sets WAIL apart from other network test beds is that real IP networking hardware is used to create the network configurations used in tests. See our SPIE '02 paper or this overview for more details.


Lab Components
Our objective is to enable arbitrary interconnections and configurations of routing, switching and host components found along any path in the Internet. To that end WAIL features over 50 IP routers and switches, 100 end hosts and a variety of other networking gear all housed under one roof. The scope and scale of these components will continue to grow over time to reflect technology trends and enable increasingly complex configurations.


Operational Processes
Three important systems have been developed to facilitate experiments in WAIL. The WAILworks management environment enables users to create arbitrary configurations of systems and then to run tests on these systems. The WAILnet delay emulator enables delays to be assigned to any link between two systems. At present, external access to WAIL is limited but we plan to make it openly available to any researcher.


Sponsorships & Collaboration
WAIL has been enabled through the generous support of a number of corporate sponsors. The founding contribution for WAIL was made by Cisco Systems via the TOSA Foundation. We are currently engaged in research collaborations with a number of our partners and are deeply thankful for their support. Anyone interested in becoming a WAIL partner should contact Paul Barford.
Take a Tour of WAIL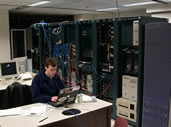 Learn about WAIL through this walk-through tour. begin
WAILers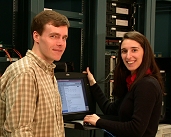 Dave Plonka & Ana Bizarro
WAIL is co-managed by Dave Plonka and Michael Blodgett. They are responsible for WAILworks development, systems management,external connectivity and are actively engaged in a number of research projects.